Interest Groups and Political Power in Texas
Interest Groups and Political Power in Texas
For this assignment you will explore top lobbyists who help shape legislative policy in Texas. The Texas legislature is currently in session, so lobbying efforts are in full swing!
You will use Capitol Inside – 2019 Texas Lobby Power Rankings posted to Blackboard to help complete this assignment. Some additional research will be required.
1) What's the difference between an 'in-house' and a 'contract' lobbyist? (HINT: you'll need to do some outside research on this one)
2) On the left column of the Capitol Inside file is a list of the state's top lobbyists for the 2019 legislative session. These are generally considered 'hired guns.' Who are these 'hired guns'? (I don't mean a list of names, but generally, who are they?) What do you notice that they have in common?
3) What is the 'revolving door' referring to in lobbying? Do you see any examples of that here? If so, give me one. (HINT: Your text discusses the revolving door in 7.3 in relation to the bureaucracy)
4) What makes government experience so valuable to lobbyists?
5) From the left column, briefly profile 2 of Texas' top 'hired guns.' You may be able to find some information in the Capitol Inside file but you should also include outside information. You should include at least 4 details about the individual – information on background, the company they work for and legislation they lobby for/against.
6) Make sure to properly cite all of your sources for this assignment.
Answer preview for Interest Groups and Political Power in Texas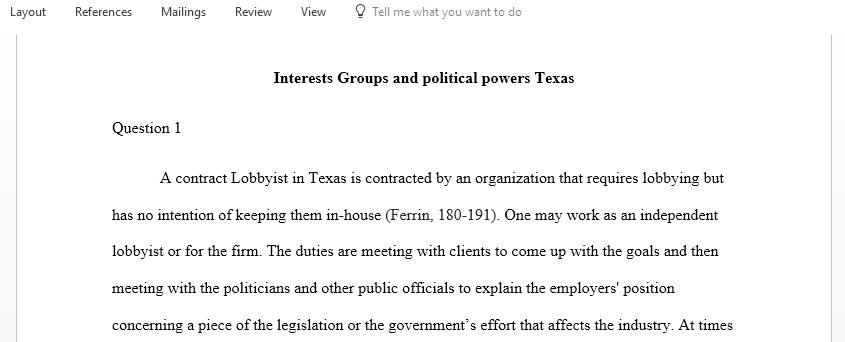 Access the full answer containing 580 words by clicking the below purchase button.