Write a case study of enrolled nurse on a surgical ward
History :Suzy Martin is an enrolled nurse who works part time 15 hours per week on a surgical ward at the local public hospital. She has been employed for the past year and has attended all of her mandatory training.
Suzy is currently completing her bachelor of nursing at the local university
Suzy has developed a good relationship with a client Jasmine on the ward, who has been admitted for exploratory gynaecological surgery. Jasmine had a termination many years ago and is now finding it hard to conceive. This evening, Suzy is looking after Jasmine who has returned to the ward after her surgery.
Suzy has received a notification from AHPRA that her renewal of registration is now due.
Discuss the roles of the two leading nursing bodies (give the full name of each), who are regulatory partners of AHPRA and name the law under which nursing registration is governed.
Demonstrate your understanding of the registration standards, by providing 2 examples of requirements that must be fulfilled by Suzy for her renewal to be successful. Use examples of how Suzy might have fulfilled some of that criteria.
In January of this year a new set of enrolled nurse standards for practice came into effect. Discuss the domain of professional and collaborative practice, and explain and explain 4 ways in which Suzy can ensure that she meets the standards set within it.
As the shift nears its end, Suzy enters the nurses' station to complete documentation. Suzy's colleague, Sarah, is already there and tells Suzy she has forgotten her password; she asks if she can use Suzy to complete her notes. Provide an explanation of the history of NSQHS standards; outline at least two (2) examples of those standards and explain the role of the enrolled nurse in providing safe and quality care. (Minimum 200 words)
 What reasonable precautions must an organisation take to protect the privacy of a client?
Discuss how using someone else's password might infringe an organisation's policy on privacy. Use relevant legislation to support your answer
 Your client asks you if she can look at her notes to see what the doctor has written about her operation. Discuss the legislation that relates to the access of medical records in this hospital. Detail any other health professionals you would engage with and the commonalities of the information that the client may have access to.
In detail, outline your responsibilities for contributing to the nursing records of a client.
Answer preview for write a case study of enrolled nurse on a surgical ward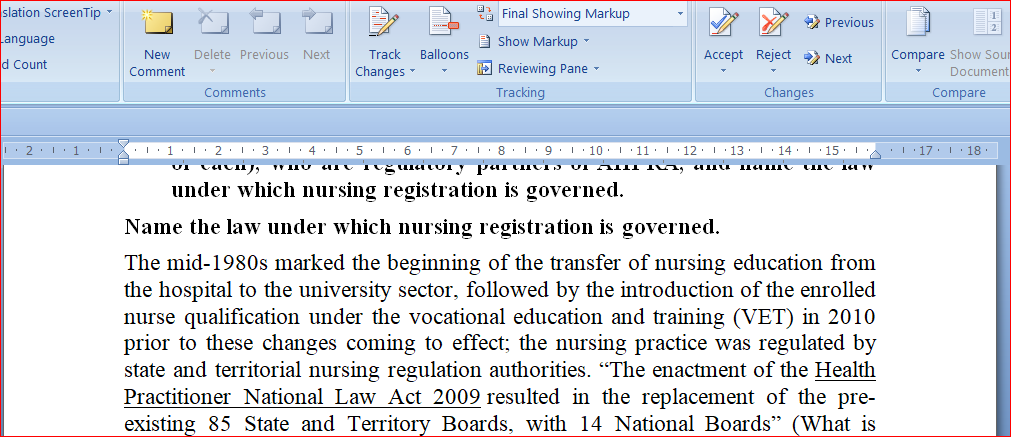 Words:2023