Use Business Model Canvas to describe the business model of International College Portsmouth
The Case Study
With the amount of data available to companies doubling every year, new source of data, and innovation in data collection, possibilities for marketers to identify market niches and finely tune campaigns are boundless. In the e-boo market, for example, three reading subscription service startups – Scribd, Oyster, and Entitles – aim to turn a profit by discovering exactly what makes readers tick.
A flat monthly fee gives users unlimited access to a broad selection of titles from these companies' digital libraries. Like Barnes and Noble and Amazon, the newcomers will collect an assortment of data from their customers' digital reading devices (e-readers, tablets, smartphones), including whether a book is completed, if pages are skimmed or skipped, and which genres are most often finished. These subscription services intend to disseminate what they have learned. The idea is that writers can use it to better tailor their work to their readership, and book editors can use it to choose which manuscripts to publish.
When customers sign up with these services, they are informed that some of their data will be selected and used but assured that their identities will be protected. Large independent publisher Smash words is enthusiastic about the value of such data to the authors who use its platform to self-publish and distribute their work. Many contemporary authors have already explored the feedback opportunities available through their own Web sites, social networking sites, and Goodreads, a user-populated database of books, annotations, and reviews now owned by Amazon. The subscription service will take this type of market research to a more quantifiable level.
Preliminary data analysis has already revealed that as the length of a mystery novel increases so does the likelihood that a reader will skip to the end to discover the resolution.
Business books are less likely to be finished than biographies, most readers complete just a single chapter of a yoga book, and some of the quicker reading is recorded romance novels.
With erotica leading the pack. Shorter chapters entice readers on e-readers, tablets, and smartphones to finish a book 25 percent more often than books with long chapters.
But does book completion translate to book sales? And how will this knowledge impact the creative process? Will quality be negatively impacted to satisfy reader preferences? Before International College Portsmouth, Associate College of the University of Portsmouth, St Andrew's Court St Michael's Road, Portsmouth,
Hants, PO1 2PR
T: +44 23 9284 8540 F: +44 23 9284 8541 W: www.port.ac.uk/icp
any of theses questions can be answered, authors will need access to comprehensive data.
And that depends on the large publishing house signing deals with the subscription services.
After nearly two decades of market disruptions spearheaded by Amazon, publishers are not flocking to supply titles. So far, only Harper Collins has signed with Oyster and Scribd, while Random House, Penguin, and Simon & Schuster remain on sidelines.
In the airline industry, nearly all carriers collect passenger data, but some are aggressively pursuing data mining to personalise the flying experience. Previously unlinked data sets can now be consolidated to build comprehensive customer profiles. Cabin crews equipped with
tablets or smartphones can identify the top five customers on the plane, passengers with special diets or allergies, seat preferences, newlyweds embarking on their honeymoon, and customers whose luggage was misplaced or who experienced flight delays on their previous
flights. In-flight browsing history and Facebook likes are even used to fashion relevant marketing pitches.
This "captive audience" aspect of air travel in conjunction with the sheer volume of information airlines collect presents a unique opportunity to marketers. Allegiant Travel company has already been able to sell show tickets, car rentals, and helicopter tours to Las Vegas travellers. United Airlines' revamp of its Web site, kiosks, and mobile app, along with its data integration initiative, have enabled it to target flyers predisposed to upgrading to an economy plus seat.
Not all customers are pleased. A user on Delta's FlyerTalk forum complained that a link from the new DL.com Web site led to a personal profile that included a lot more than her miles accumulated and home airport. Annual income, home value, and the age ranges of her children were included along with expected data such as amount spent on airfare, hotel preference, and type of credit card. The resulting negative publicly prompted Delta to
apologise, but it defended its use of demographic data and data not covered under its privacy policy. Credit-card partner American Express had supplied some data, as allowed under the policy. Global information service group Experian supplied the rest, unbeknownst to consumers.
These data-driven marketing approaches are not flawless. Even customers who accepts the inevitability of profiling are miffed when they receive unsuitable offers based on faulty personal information. A Qantas survey of frequent fliers found the most customers want a International College Portsmouth, Associate College of the University of Portsmouth, St Andrew's Court St Michael's Road, Portsmouth,
Hants, PO1 2PR
T: +44 23 9284 8540 F: +44 23 9284 8541 W: www.port.ac.uk/icp
line drawn between data collection to facilitate useful offers and data collection that is too intrusive. British Airways crossed the line with its "Know Me" program. Google Image searches were used to identify VIP customers as they entered the airport and first class lounge. The practice has since been discontinued. Customers can opt out of British Airways personalisation services – but not its data collection. Upon request, a note is added to the
customer profile, while nonetheless continues to grow. None of the carriers currently allow customers to opt out of their data programs.
As car companies explore their Big Data opportunities, customer privacy will become an issue for them as well. Ford Motor Company began exploring how integrating databases and using complex algorithms could lead to increased sales three years ago when it developed a program for its dealerships to more closely match car lot inventory to buyer demand. Using buying trends, local and national vehicle supply, and current car lot inventory, Ford devised a program to make purchasing recommendations to dealers. Not only did vehicle turnover rate improve, but net price – the price a consumer pays minus the manufacturer subsidy – rose, fuelling an upturn in Ford's profits. But Ford is thinking even bigger. Performance monitoring using vehicle Internet connections to collect fuel economy, mechanical failure, and other safety and performance metrics could soon be used to improve product engineering. What's more onboard connections can be used to message drivers about potential breakdown issues, perhaps heading off and
expensive recall. Since Ford estimates that by 2016, up to a third of all its customers communication will occur inside vehicles, possibilities around. Leased vehicle usage data could inform end-of-lease marketing pitches; driving pattern, schedule, and driving manoeuvre data could suggest routes most compatible to a driver's habits; car location data could be sent to traffic management systems to control stop lights; data from networked cars
could alert other drivers to hazardous conditions and traffic jams, and current car value and payment data can advise drivers of their potential trade-in date.
It's not hard to foresee the privacy issues that could come into play as drivers realise that not only their location, but their every movement inside their vehicle is being tracked. There are implications for law enforcement – traffic tickets and accident blame attribution. Balancing privacy dilemmas with convenience, security, and expediency of transactions will be the challenge going forward for all companies as they explore emerging big data analysis
capabilities.
International College Portsmouth, Associate College of the University of Portsmouth, St Andrew's Court St Michael's Road, Portsmouth,
Hants, PO1 2PR
T: +44 23 9284 8540 F: +44 23 9284 8541 W: www.port.ac.uk/icp
Sources: Tim Winship, "Big Brother Unmasked as … Delta Air Lines, "smarttravel.com, January 2013; Jack
Nicas, "When Is Your Birthday? The Flight Attendant Knows," Wall Street Journal, November 7, 2013 and "How Airlines Mine Personal Data In-Flight," Wall Street Journal, November 8, 2013; David Streitfeld, "As New Services Track Habits, the E-books are reading You," New York Times, December 24, 2013; Ian Sherr and Mike Ramsey, "Drive into the Future," Wall Street Journal, March 7, 2013.
Please read the case study and answer any FIVE questions (if you answer more than 5 questions only the first five will be marked). All questions carry equal marks.
1. Use Business Model Canvas to describe the business model of International College Portsmouth (ICP) (20 marks)
2. Use the value chain to evaluate the impact of Internet on book publishers and book retail stores. (20 marks)
3. Discuss how data analysis and AI can help the industries to have a competitive advantage? (20 marks)
4. In the context of the cast study, discuss how Ford car company have used the data to improve their revenue and performance. (20 marks)
5. In the context of General Data Protection Regulation (GDPR), discuss the privacy issues in the airline and the car industries raised in the case study. (20 marks)
6. Summarise the case study message in 300 words. (20 marks)
Answer preview for Use Business Model Canvas to describe the business model of International College Portsmouth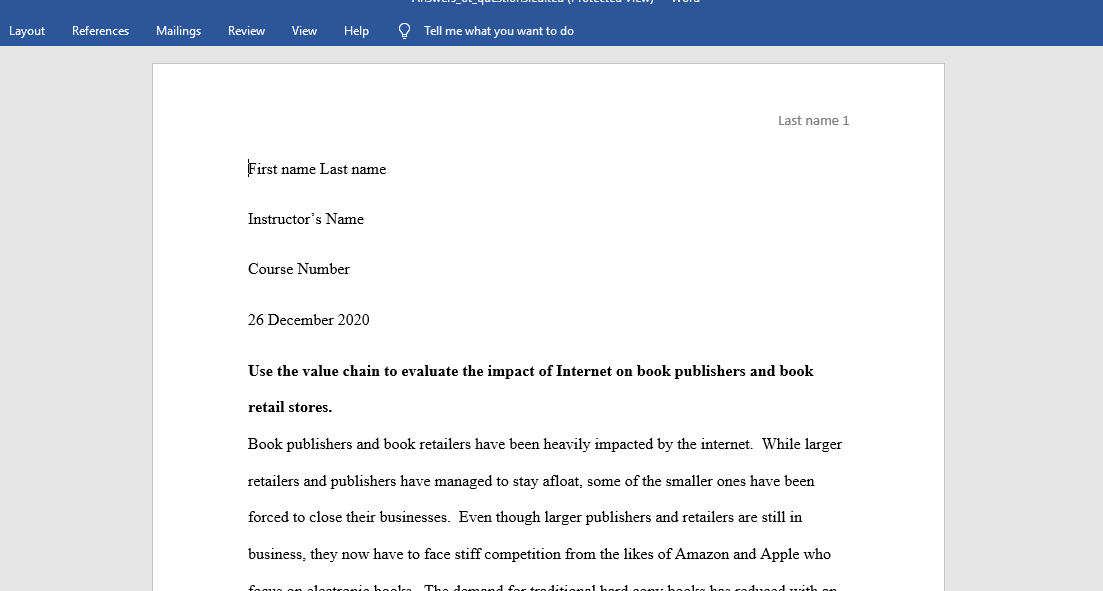 Access the full answer containing 1256 words by clicking the below purchase button