Financial analysis of River Island in Kings Lynn UK
River Island Clothing Co. Ltd is an unlisted private limited company engaged in the manufacture and retailing of men's, women's and children's clothing and accessories in the UK and also through franchise agreements with partners in Eastern Europe and the Middle and Far East.
It prepares its annual accounts to the final Saturday of the calendar year.
The statutory accounts for the 7 years to 29 December 2012. These have been obtained from Companies House. (Please see the attachment file)
1. For each available year, CALCULATE the Company's:
1. Gross Profit Margin
2. Operating Profit Margin
3. Net Profit Margin
d. CashConversionCycle
Details of the formulae you will need are in Chapter 12, "Interpretation of Financial Statements" of Smith, Barry P. Introductory Financial Accounting and Reporting
Show your workings in your answer.
2. DESCRIBE and EXPLAIN the Company's financial performance over this period.
Use your calculations in Part 1 as a starting point for your answer to this Part but do not restrict yourself to these figures.
Strong answers will draw upon:
the Directors' Report
the full Financial Statements
other relevant financial ratios
External information relating to the Company, the retail and clothing sectors, and the general economy
3. In the 52 weeks to 29 December 2012, River Island Clothing Co Ltd paid over £70 million in rent on its shops.
1. a) CALCULATE the Business Rates payable for 2013-14 on the River Island shop that has been allocated to you.
2. b) SUBMIT a copy of the relevant page from the Valuation Office Agency website with details of your shop's rateable value.
3. c) STATE one interesting fact about the town, city or suburb in which your shop is located.
River Island on Kings Lynn UK
The River Island website http://www.riverisland.com/ will help you find the shop's full address.
The Valuation Office Agency website http://www.2010.voa.gov.uk/rli/ will allow you to find the rateable value of your property.
Answer preview for Financial analysis of River Island in Kings Lynn UK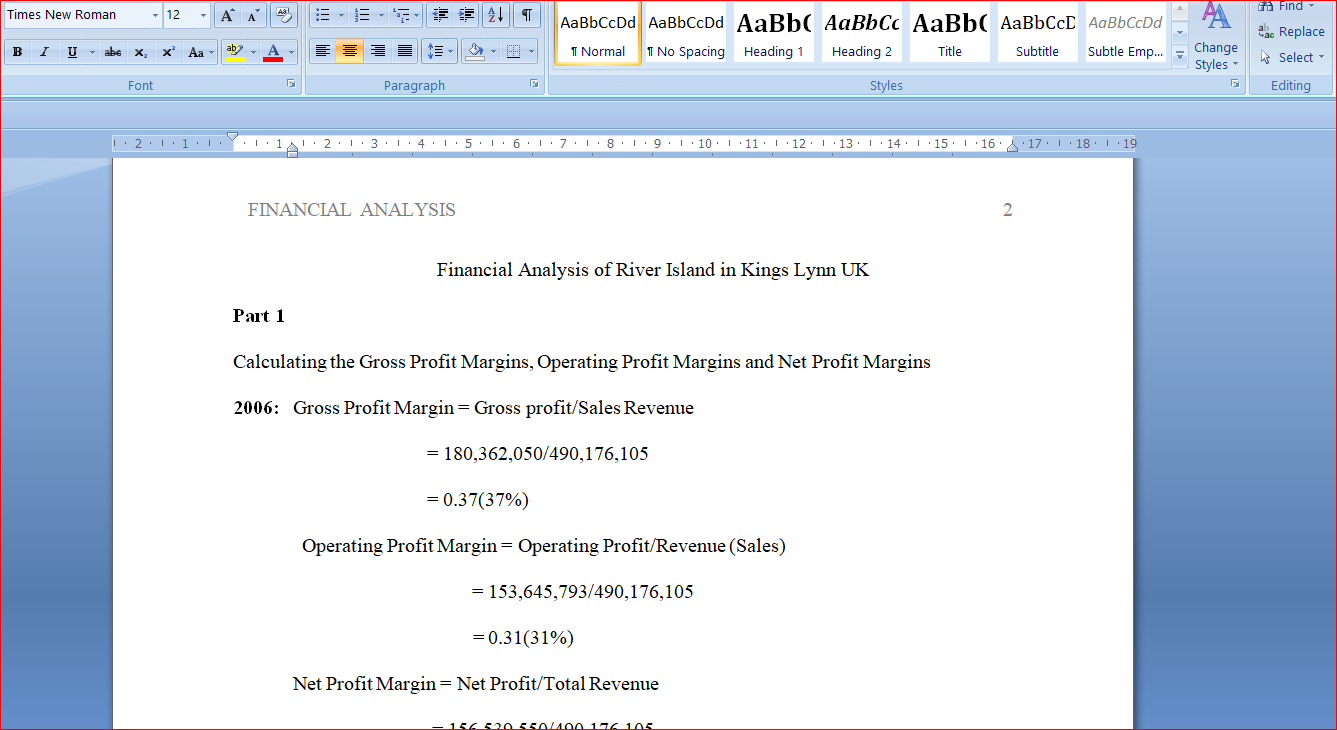 Words:1119