Discuss Nokia Organizational Change
Discuss Nokia Organizational Change. For the analysis of the case study (final assignment) you must provide a detailed examination of the elements of the situation. I suggest you use the following format so the paper flows smoothly.
* Title page
* No abstract required.
* Introduction to the paper – what is the paper about – what can I expect to read about?
* Brief overview of the case study i.e. only the highlights – just a synopsis to remind me what it is
* Informed discussion related to why the change occurred – main heading
* What went well – sub-heading
* What could/or should have been done differently to improve the outcome of the event – sub-heading
* Conclusion
* References
Assignment 2: Case Study Analysis
In the second assignment you are asked to use concepts and models discussed in class, and in the readings, and to apply these to your case. This analysis should be detailed enough to be useful to an administrator reviewing the case. Your document should help the person reading the analysis to determine what happened, what went well, and what could or should have been done differently to improve the outcome. There should also be informed discussion included in the case analysis related to why the change process unfolded the way it did. The major points in the analysis should be referenced to class readings/discussion or to additional research from outside of the course requirements. A minimum of 5 references should be used, some of which are beyond those provided in class.
The analysis should be in a structured format which increases readability, comprehensiveness, and usefulness. A length of 10 pages (excluding title page and a reference page) is usually sufficient for the depth of analysis expected. Assume the instructor has a copy of the case study document so there is no need to repeat details of the case in the analysis. Again, creativity is encouraged and an analysis that captures the interest of readers is preferred. Refer to the marking guide called "Feedback on Case Study Analysis" for more information.
Topic: Nokia Organizational Change case study
Answer preview for Discuss Nokia Organizational Change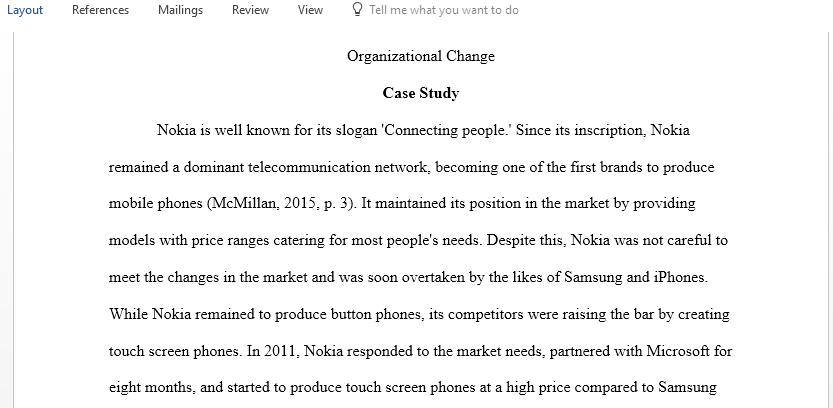 Access the full answer containing 3360 words by clicking the below purchase button.