Develop your own theory for military leadership training
Develop your own theory for military leadership training .Then create a PowerPoint presentation to highlight your theory to share with North Atlantic Treaty Organization (NATO organizational leaders. When working with NATO, appropriate training practices must be employed. It is therefore critical to develop a theory for candidates or soldiers.
Here is the foundation for a possible working or training theory :
• Realistic goals and objectives must be set for candidates to develop real-world experience.
• It is important for trainers to activate prior knowledge to instill confidence in the training process.
• Military soldiers should be afforded many opportunities to apply new knowledge in missions' settings.
• Substantive feedback should be provided for any assigned mission. Training should allow candidates to move toward higher-ordered thinking tasks.
• Diversity should be emphasized when in training or briefing for civilian or professional military various missions.
Include the following in your presentation:
• Begin by assessing how North Atlantic Treaty Organization (NATO)military learners differ from traditional students.
• Explain how NATO theory will enhance organizational effectiveness for civilian and military structure.
• Determine if the military learner is a "neglected species." Explain your thoughts.
• Recommend NATO strategies to overcome barriers to military training learning. Provide examples to support your findings.
Answer preview for Develop your own theory for military leadership training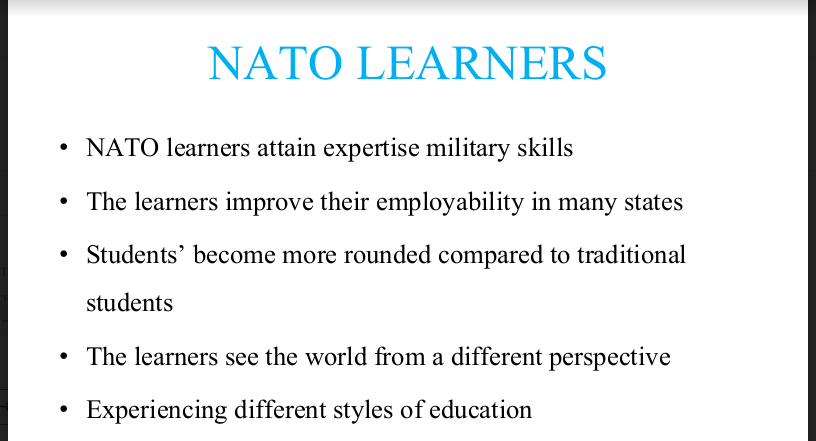 Access the full answer containing 12 PowerPoint slides by clicking the below purchase button