Military Intelligence Captain's Career Course Mission Command Brief
SUBJECT: Military Intelligence Captain's Career Course  Mission Command Brief
References: ADRP 5-0 Operations Process, ADP 6-0 Mission Command, ADRP 6-0 Mission Command, FM 6-0 Commander and Staff Operations, AR 25-50, USAICoE Writers Handbook 3rd Edition, ST 22-2.
Research a significant battle that demonstrates a Commander's use of the Mission Command activities in Army Doctrine Reference Publications (ADRP) 5-0 and 6-0. You will conduct a 9-11 minute Mission Command Brief (FM 6-0, Chapter 7), using an information briefing format. This brief will relate to the Mission Command Paper and will not introduce new ideas. You will analyze how a Commander applied the Mission Command principals during the battle. You can use a one-minute video to support your presentation. You will use PowerPoint or other form of electronic media to facilitate you presentation.
Format in the following sequence (GO/NO GO):
Introduction
Quick summary of events leading to the battle
Analysis of Mission Command from one side of the battle (Four Mission Command principles)
Quick description of the battle's outcome (How did Mission Command affect the battle?)
Significance of this analysis (How can leaders apply the lessons learned to future battles?)
Conclusion
Passing score is 80% for U.S. students and 70% for International students. Failure to meet time requirements will result in a NO GO and re brief. Failure to use PowerPoint or other form of electronic media to facilitate the presentation will be a NO GO and re-brief. Failure to follow the required format will be a NO GO and re-brief.
The FY18 1009S Mission Command Brief (Assessing Speaking) rubric records the evaluation. Proper rehearsals is key in successfully completing this briefing requirement. If there are questions regarding this assignment, ask your Small Group Leader (SGL). Post the briefing to Intelligence Knowledge Online (IKN) by 0800 hours on the due date. See the MICCC training calendar for the due date. A late briefing is an automatic zero (NO GO). If there are problems or issues with submitting the briefing on time, inform your SGL as soon as possible.
Answer preview for Military Intelligence Captain's Career Course Mission Command Brief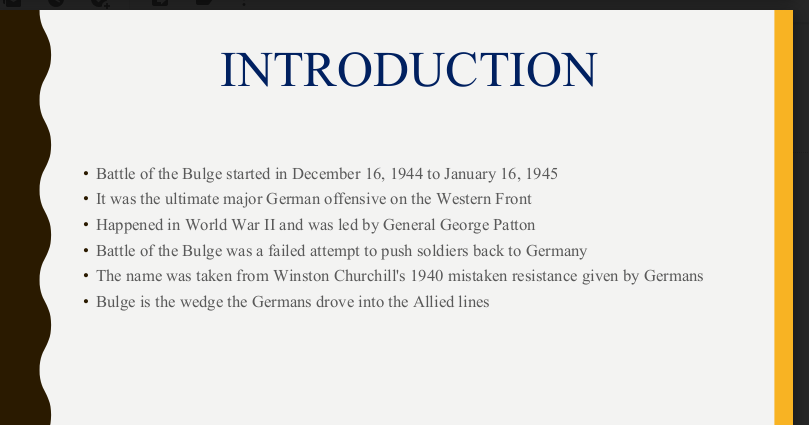 Access the full answer containing 12 PowerPoint slides by clicking the below purchase button