Develop and present a Business Report outlining proposals for effective crisis communication during a pandemic
Topic: Develop and present a Business Report outlining proposals for effective crisis communication during a pandemic
Description of Assessment Task and Purpose.
You are required to develop and present a Business Report outlining EITHER
(i) proposals for business continuity in light of a pending pandemic; OR
(ii) proposals for effective crisis communication during a pandemic
In either case above, you are required to apply the principles of EITHER business continuity planning OR crisis communication to a private sector organisation of your choice – noting the requirement to assess the organisation vis-à-vis 'pandemic'.
The Report should not exceed 3000 words
• not including Executive Summary (no more than one side of A4)
• not including Terms of Reference (no more than two sides of A4)
• not including Appendices (limit to 5 appendices only – no more than one side of A4 per appendix)
• Not including bibliography / reference list
The purpose of this assessment is to judge and gauge the extent to which steps can be taken to resolve the organisation's crisis and with the specific intention of 'minimising the interruption to its business OR providing effective communication during a period of crisis. The Report will also assess the future of the organisation in terms of appropriate crisis prevention measures. The Report will include the necessary background to both the organisation and its crisis and will provide context for effective evaluation and assessment of the best way forward for the organisation.
TASK
You are a freelance business analyst with an interest in assessing the performance of private sector organisations which now find themselves EITHER heading towards crisis OR which are already in crisis. Of particular interest to you, are the mechanisms and tools employed to minimise disruption to business during times of PANDEMIC and ways in which organisations may continue to conduct business 'as usual', using the tools of EITHER business continuity OR crisis communications
Identify ONE NAMED organisation and prepare a 'situation analysis' enabling you to present proposals for a EITHER business continuity plan (BCP) OR a crisis communications plan (CCP) for your chosen organisation.
You should consider
a. brief background of antecedents relating to your chosen organisation and the sector in which it operates together with a statement as to the function and purpose of your proposed BCP / CCP;
b. a recognition of your chosen organisation's 'turning point' and its significance and implications for the organisation;
c. an identification / isolation of the 'pivotal' crisis and the stage of crisis in which your chosen organisation finds itself (eg, prodromal, acute, chronic, resolution); and
d. your proposals for business continuity / crisis communications with justification for your proposals
Answer preview for Develop and present a Business Report outlining proposals for effective crisis communication during a pandemic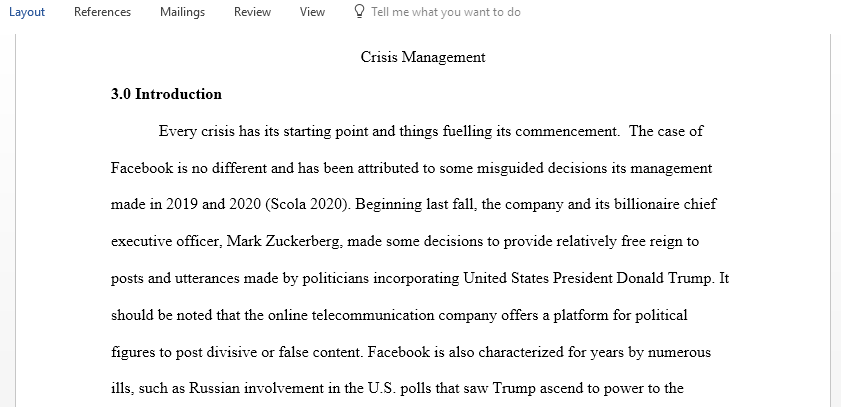 Access the full answer containing 3315 words by clicking the below purchase button.