Describe interventions and conclusions
Interventions and Conclusions
Key Assignment Draft – Interventions and Conclusions
1. Intervention(s): (Approximately 2 pages)
In this section, you will use informed decision making identified in the evidence-based practice section to identify and justify your methods of intervention with the client.
Determine a minimum of two goals and describe the objectives for each goal. Use S.M.A.R.T goals and objectives.
Decide on whether your intervention will be short or long term and give a rationale.
Using at least two or more peer-reviewed research articles, describe the interventions you would use, and how you believe this will help the client change and function more effectively. Be explicit about how your interventions are grounded in evidence, and how the specific approach/es selected are expected to facilitate treatment goal achievement.
2. Conclusion: (Approximately 1-2 pages)
Include a strong conclusion that reflects on your critical examination of your client and what outcomes you anticipate given their background, your assessment, the diagnosis, evidence-based practices, and interventions.
Please disguise clinical information on the case study as well as within your group. Use a single initial, "Mr./Ms. Smith," or simple first names for children. If you do not have access to certain information or a current case, please discuss this with the professor within the first week of the term.
Please follow APA 7th edition style guidelines that include 12-point Times New Roman font, double-spaced, and one inch margins. It is strongly recommended to use headings (noted in the outline) throughout your paper. A minimum of 5 outside, peer-reviewed sources (outside of class means professional journal articles not assigned in class) as
well as in-class material. There are a number of resources available through the library to assist the students (including e-journals, search engines, and interlibrary and intercampus loan).
Answer  preview for describe interventions and conclusions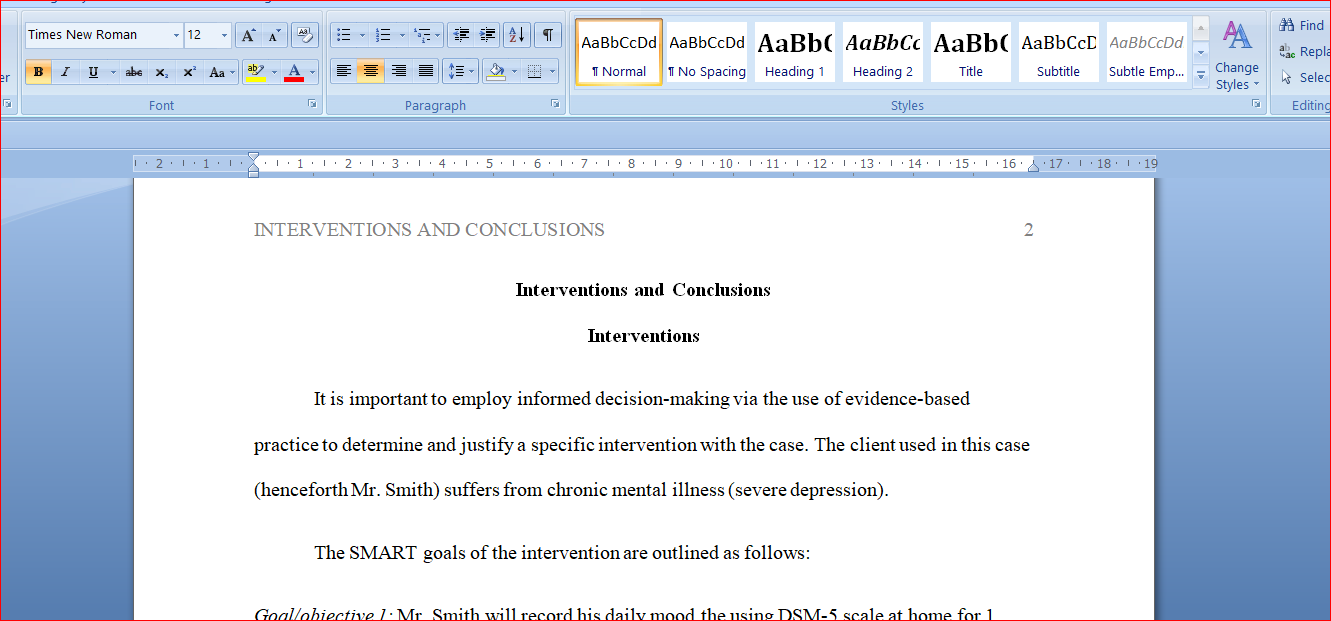 Words:576