An evaluation of the core sociological and psychological factors affecting undergraduate students reluctance to disclose mental health issues
Title: An evaluation of the core sociological and psychological factors affecting undergraduate students' reluctance to disclose mental health issues
THE KEY THROUGHOUT THIS ESSAY IS TO
(NOT TREATMENT)
Introduction
Define mental Health
Use statistical evidence to show how common (prevalent) this issue is
Tell the reader how this health issue is a problem (challenge) for undergraduate university students.
Identify the common mental health issues amongst higher education students and give examples, explaining how they relate to their studies and worrying suicide rate.
Define disclosure
Can you identify a source that says university student are reluctant to disclose mental health. Discuss the consequences if lower rates of disclosure
Use the ucas website to explain students are asked to disclose their mental health issue on their application before they start their studies — discuss barriers and facilitators of this
Then introduce Engel model that will be used to identify the psychological and sociological factors affecting disclosure. Give an example of the interaction between psychological and sociological factors.
Main body
Discuss 3 psychological and 3 sociological factors affecting disclosure
For each factor:
Explain the factor eg, what knowledge do students need, what is a stigma, what is a students self perception
Refer to literature that evidences that there is a problem — that students lack knowledge, they fear a stigma and they lack awareness of their own mental health Why this stops them disclosing their mental health
Then provide a solution of how to improve the issue and explain how that will help disclosure
Conclusion:
Don't make new points!!!
Highlight most interesting findings — psych and social
Identify where the gaps are (evaluation) —what more research? — is it fully understood? What areas need better solutions
Answer preview for An evaluation of the core sociological and psychological factors affecting undergraduate students reluctance to disclose mental health issues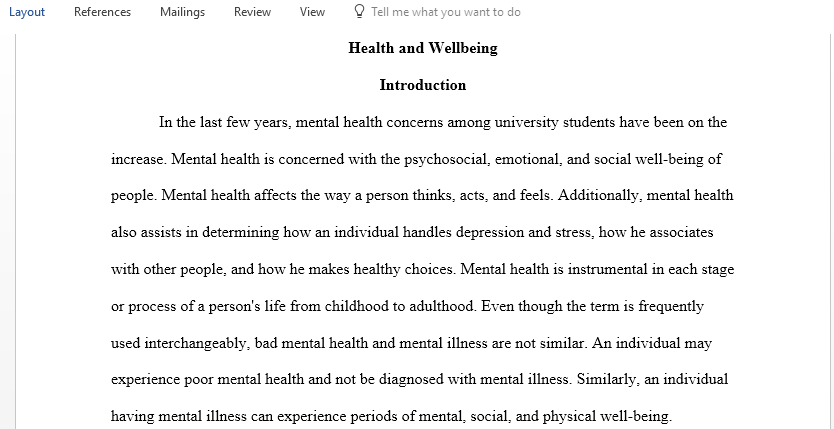 Access the full answer containing 2280 words by clicking the below purchase button.