Write an expository essay on Identity Oppression and Resistance
Write an expository essay on Identity, Oppression and Resistance, it should be 1300-1500 words in length, double-spaced and use MLA style
citations for literary references. This assignment is an EXPOSITORY and ANALYTICAL essay.
In class, we have discussed forms of identity associated with race, ethnicity, socio- economic class, gender and sexuality. Analyze how various artists and writers have called attention to power structures and ideologies that oppress people. What elements unite these efforts? What social norms and ideologies are being questioned or interrogated in their work? How do these works relate to the historical context(s) in which they were created? How does our understanding of identity as something socially constructed help to liberate some individuals from oppressive
ideologies?
As you construct your essay, please analyze FIVE of the following works. Remember to clearly explain how the work in question adds to or relates to your overall discussion. Be sure to cite specific literary examples, images and close visual readings as you develop and explain your ideas. You will want to use your primary sources as a means to explore some of the prompt questions. Do not simply write a summary of each work in succession. Your essay should have a thematic unity and flow. Be sure to consider the questions in the prompt in your analysis. Your use of strong supporting evidence and clear, well-written explanations will earn you the highest marks for this essay. I encourage you to select a variety of works from different time periods and in different media.
Below are the course objectives for Humanities 16:
define key terms of American culture in a philosophical perspective, providing a basis for their interpretation and evaluation;
identify movements in American art, music, literature and popular culture and describe how these movements relate to one another and the evolving structure of American society;
interpret primary texts as representations of the time period and controversies which produced them;
analyze recurring cultural problems throughout American history and across the social classes and geographical regions which produced them;
describe how the arts in American culture provide a critical perspective on American ideals and their realization;
demonstrate methods for critical assessment and personal aesthetic judgments of American culture.
Answer preview for Write an expository essay on Identity Oppression and Resistance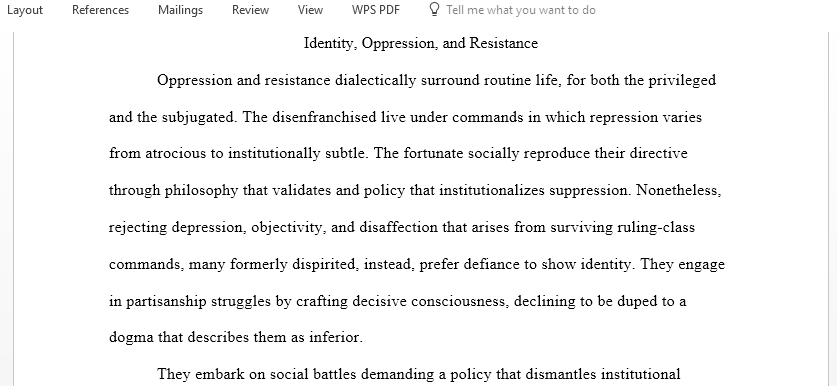 Access the full answer containing 1505 words by clicking the below purchase button