Write a literature review paper on alcoholic parents and future risk factor of their kids
Write a literature review paper on alcoholic parents and future risk factor of their kids. State the significance of the problem you will address (Identify the scope of your study problem and address the impact of your study problem on your study population by stating negative or positive consequences of the problem).
2. Literature Review (3 – 4 pages)
1) Conduct a selective and critical review of the literature that is applicable to your research question. You are required to review at least five empirical research articles published in peer-reviewed journals. This is not a simple summary of literature or annotated bibliography. Your literature review should show that you know what research has already been done in your area of interest. Indicate the current themes in this area and where your question fits in to this work.
2) Integrate the literature. Instead of reporting study-by-study, report topic-by-topic. The literature review should not read like annotations. If you notice that you continuously include only one publication in a citation, you are probably not integrating. Likewise, if you cite the same author for an entire paragraph or more, you are probably failing to integrate.
3) Drawing upon the literature review, discuss the theory/underlying assumptions that guide your research.
4) End with a conclusion that sums up the literature review. How will you build upon this knowledge base? Tell what is missing (where are the gaps in research?) and how your study will help to fill these gaps. Clearly state you research questions or hypotheses here.
3. Conclusions (2 – 2 pages)
1) Ethical and Cultural Consideration: What ethical and cultural considerations of this research study should have for study population? Discuss efforts to be responsive to groups or communities that are under-represented in such research
2) Contribution and Implication: Describes potential contribution to this area of research and implications for the social work field/practice, identifies intended final product
APA Format and Citations/ References:
You should always make the best efforts to include high quality references such as peer-reviewed journal articles in your papers. In this class, all assignments and in-class discussions and activities are considered as part of social work professional activities. Hence, the quality of your work should reflect the professionalism of social work. With this respect, in your paper, you should not use on-line or off-line sources that you cannot verify the authors' credentials and the content accuracy (e.g. Ask.com, Wikipedia, eHow, personal blogs, and etc.).
All take home written assignments should be completed using the American Psychological Association (APA) format (6th Edition). The Department of Social Work and the Rod Library has a copy of APA manual. The following websites also offer great tips on how to use the APA style.
Answer preview for write a literature review paper on alcoholic parents and future risk factor of their kids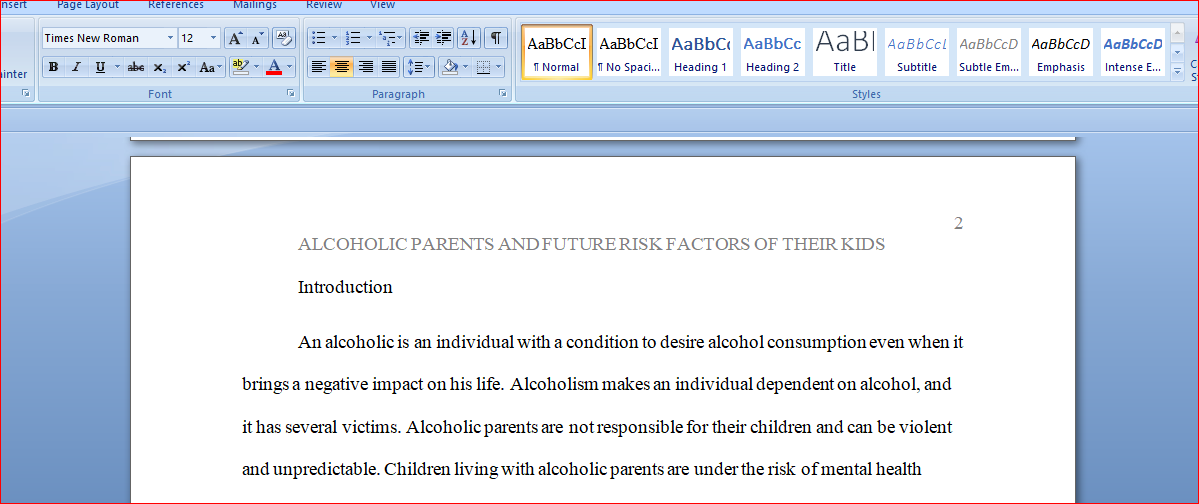 Words:1,820