Students are expected to submit a report describing current operations of their own organization
Introductory Report (IR) submission
Students are expected to submit a report describing "current operations of their own organization". Target audience is top management of the organization. IR accounts for 5% of the total course grade.
Upload your report on Moodle (file size limit is 5MB). It is due midnight (Central time), 3 days before the first offline class (Wednesday for Saturday class). No late submission will be accepted. A hard copy should be submitted by the beginning of the first offline class.
The length is pages. Font size is 12 and line spacing is 1.5. Page margin (top, bottom, left and right) is 1 . Create a cover page (exception to the page length rule) and include student name and ID, course name, semester, organization title. Please do not waste space by summarizing your business or history, etc. Focus on the current organization operations .
Reading Textbook Chapter 1 and 2 can help students. For more details, students can also read Chapter 9 (Fixed, Process, Work Cell and Product Oriented) and 7 (Figure 7.1 and 7.8). Students are strongly also encouraged to consult with 0M people in their organization to review and confirm if your report makes sense (provide names of the 0M people if any)
Submission title name and report file format: IR_Student's last name_2019EMBA.
Evaluation items:
a. Relevance: Clearly describe "the way how your organization operates"
b. Clarity: Explain *"how" it is relevant to your organization profit maximization goal step by step so that readers can understand your points (underline keywords).
Logical interpretation: Ensure to provide logical interpretation how your IR is discussed and related to the text chapters (Chapter 1, 2, 9 and 7).

Professional format: Assume that we are submitting our report to top management. If you use any external reference materials, ensure to include a website link to the source article or business website at the end of the report (exception to the length rule). Include page number, locate all references to the last page of the report if any, ensure spelling and grammar error free (use MS word check function).
Answer preview for Students are expected to submit a report describing current operations of their own organization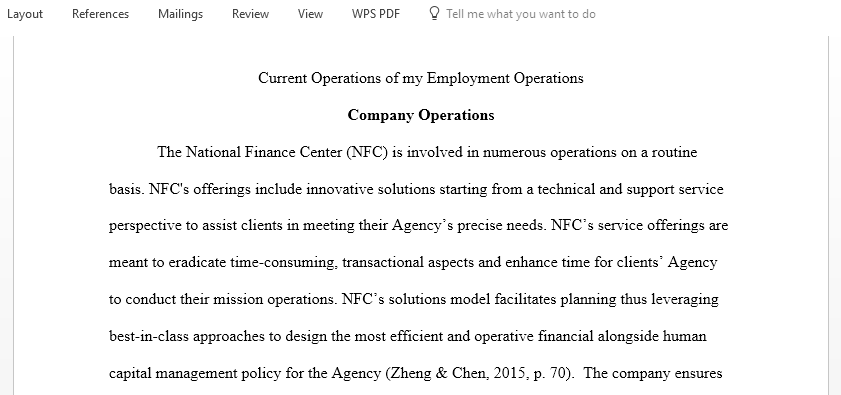 Access the full answer containing 1345 words by clicking the below purchase button