Raven Head Ranch case analysis
Raven's Head Ranch case analysis
Part One:
This case focuses on the weak internal controls, conflicts of interest, and a weak board of directors in escalating unethical decisions, resulting in the misappropriation of funds for a small homeowner's association. The case is based on a real-life situation and vividly illustrates the roles of governance and internal control in aligning organizational and stakeholder objectives and how "good" people can make bad decisions. The setting of a small, volunteer-driven nonprofit allows students to apply the Committee of Sponsoring Organizations of the Treadway Commission (COSO) Internal Control – Integrated Framework to a realistically fluid situation with missing, weak, or bypassed controls and a weak governance system with no outside reporting requirements.
Review the attached case and answer questions 7 and 8.
Part Two
Watch the following Video attached first! (attached) A person who takes a fraudulently altered instrument for value in good faith and with no notice of the alteration may enforce the instrument according to its original terms or to its terms as completed (see an example in the video). Is it ethical that the obligor on a negotiable instrument is unable to raise otherwise valid defenses simply because the holder meets the requirements of being a holder in due course? Support you answer with a real or hypothetical example.
Answer preview for Raven Head Ranch case analysis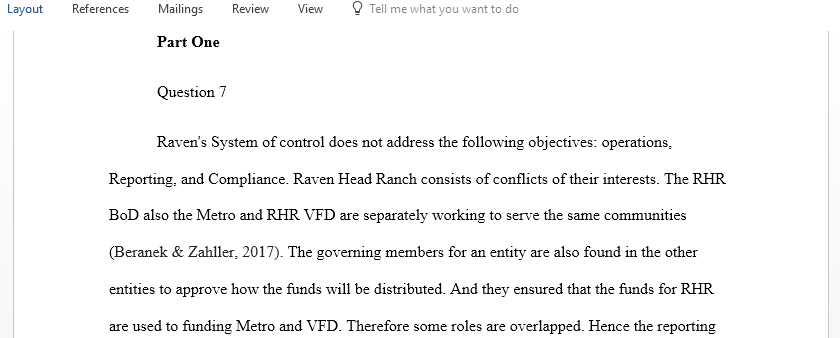 Access the full answer containing 570 words by clicking the below purchase button.