You can choose any type of pollution in Virginia or Washington DC
You can choose any type of pollution in Virginia or Washington DC
The Need for a Secular Community Center
The town of Colonial Beach, Virginia, has an estimated population of 3,500 citizens, is about 10 miles in its perimeter, and is located along the Potomac River. I recently obtained the population number by contacting Colonial Beach's town hall and the estimated perimeter from Google Maps (2014). Colonial Beach currently houses 11 different churches, all based on the Christian faith. Even though the town has a fairly wide selection of Christian churches, it does not currently have other forms of religious-based institutions, nor does it have a local secular community center available for all ages which creates a need for many citizens. People who attend churches within Colonial Beach, and in general, have many of their social needs met by these religious institutions; this point is made by Christopher Ellison and Linda George (1994) in
their article "Religious Involvement, Social Ties, and Social Support in a Southeastern Community"(p.2). Ellison and George also note that individuals who attend religious services typically have more non-family social ties than people who do not attend religious services, and that they often times feel more valued (p.12). Dr. Johnny Almond (personal communication,
June 26, 2014) also expressed the importance of community within his former congregation. In a recent interview, Dr. Almond explained that community and fellowship were valued highly by his congregation. These social scientists and clergy agree that socialization is both valued and necessary for healthy, happy citizens. It stands to reason, then, that the lack of a secular community center for all ages in Colonial Beach may cause non-religious citizens to suffer the effects of isolation including impaired cognitive development, mental stress, and physical ill– health.
Answer preview for you can choose any type of pollution in Virginia or Washington DC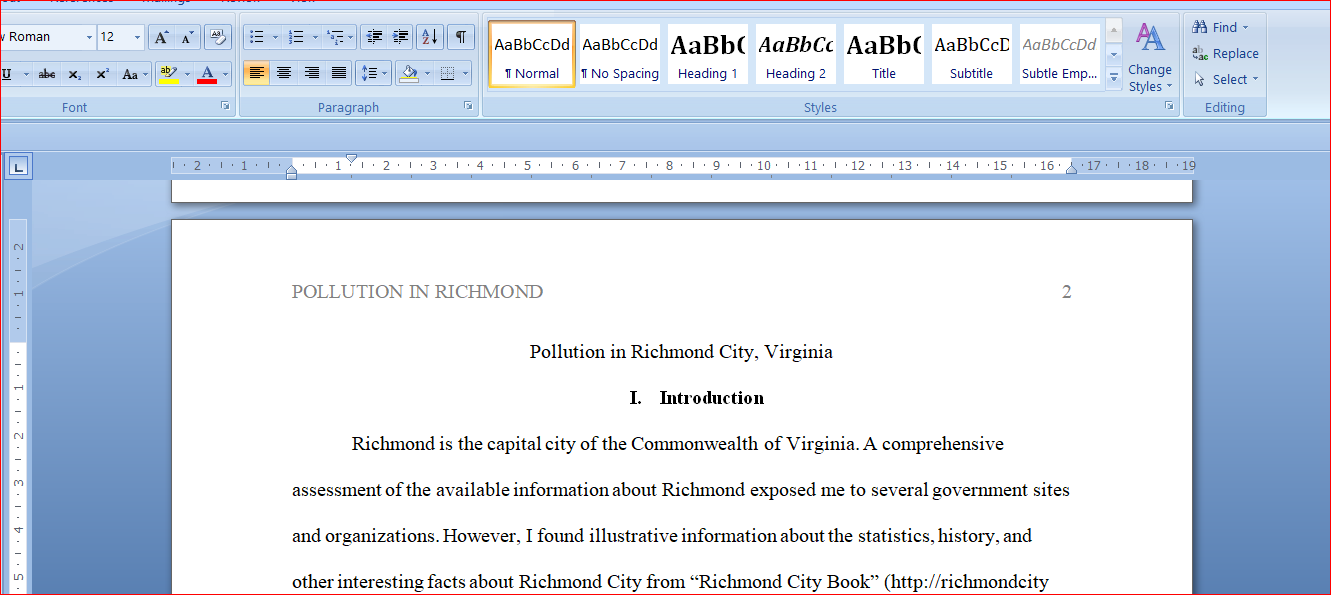 Words:1972