Leadership in Contemporary Organizations
Subject: Leadership in Contemporary Organizations. This assignment provides you with an opportunity to develop a deep understanding of the manifestations of leadership in your designated case study. Specifically, you are to compile a report that identifies and analyses the leadership styles, approaches and strategies evident in the case study.
Your analysis should include an evaluation of:
(1) the context in which the leadership approaches, styles and strategies are acted out
(2) the successes and failures of the identified leadership styles, approaches and strategies
(3) the relevance of power, influence, politics and culture in shaping or rewarding specific leader behaviours
(4) any apparent contradictions in the intentions, actions or behaviours of the leader or leaders in this case
(5) recommendations for improving the leadership capabilities of the key individual/s in this case
Your report should be formatted and presented in a highly professional manner, with relevant sections clearly delineated in a sensible and clear structure. You will need to include substantial paragraphs with analytical discussion to demonstrate analytical depth.
Assessment Criteria: Your report will be evaluated according to the following criteria –
Content: Ability to identify and clearly articulate relevant leadership issues (5 marks).
Analysis: Ability to critically evaluate important leadership issues, to display an awareness of their contextual relevance, and to utilize and apply relevant theories and paradigms to reveal a high-level understanding of the case (10 marks).
Presentation: Appropriate use of report-writing and formatting techniques including spelling, grammar, punctuation, pagination, paragraphing, use of headings and sub-headings, incorporation of relevant diagrams and figures, and appropriate referencing (10 marks).
Answer preview for Leadership in Contemporary Organizations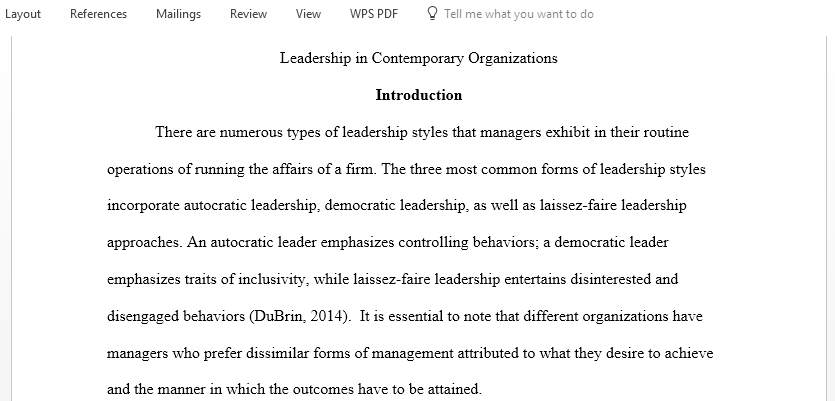 Access the full answer containing 1980 words by clicking the below purchase button