Instruments of Trade Policy
Chapter Seven introduces several different "Instruments of Trade Policy."  In our current political climate foreign trade and foreign trade policy have been discussed a bit, but more as afterthought than as major issues.  Nevertheless, trade policy remains important in general and is certainly important to the course.
Trade policies also have been upended worldwide due to the pandemic.  Some of that has been seen in explicit changes, elsewhere enforcement of trade policies has been weakened or strengthened in response to the pandemic. Let's go back to January 1, 2021.  Articles and events on or after that date will be considered current for the purpose of this assignment. There may be some recent discussion in the news, given the change in Presidential administration.
Required: Locate and explain at least two separate incidents of the creation or use of trade policy instruments (see the list in Chapter 7) involving the USA.  Either may involve the USA managing a trade instrument or another country managing its trade policy with the USA as target.  Use the instruments from chapter seven and explain whether the use reinforces or contradicts the chapter coverage
Answer preview for Instruments of Trade Policy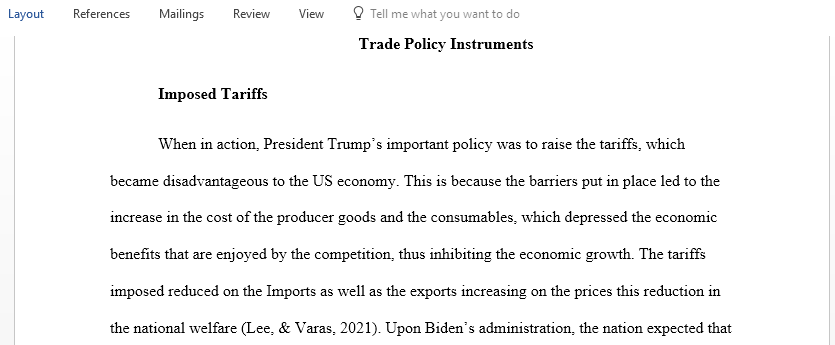 Access the full answer containing 540 words by clicking the below purchase button.