Evaluate Two Qualitative Data Collection Methods
Week 2 – Assignment: Evaluate Two Qualitative Data Collection Methods
Instructions
In this assignment, you will evaluate two potential data collection methods for your qualitative research study. Each data collection method typically used in qualitative educational research has advantages and disadvantages, so conduct a direct examination for how and why each method may be best used within your proposed study. Please use the two references I sent too! All info is on there for citing and referencing,

Standard qualitative data collection methods used across qualitative educational research. Figure 2.1. Common qualitative data collection methods used across qualitative educational research.
Assignment Instructions:
Identify whether you plan to gather data from human subjects or intend to collect archival/secondary data (or both). I will be collecting data from both After a review of Figure 2.1 and the Week 2 Resources, evaluate the advantages and disadvantages of two data collection methods typically used within qualitative educational research and cite the relevant scholarly research guides to support your evaluation.
Summarize the benefits of both data collection methods to gather data for your specific educational problem of inquiry.
Length: 2-3 PowerPoint slides, not including title and reference slides
References: Include a minimum of 3 scholarly research guides
Your slide presentation should demonstrate thoughtful consideration of your comparison between two selected qualitative research designs appropriate within the qualitative method and relevant to your research focus. Your presentation/performance should reflect graduate-level writing and APA standards.
Answer preview for Evaluate Two Qualitative Data Collection Methods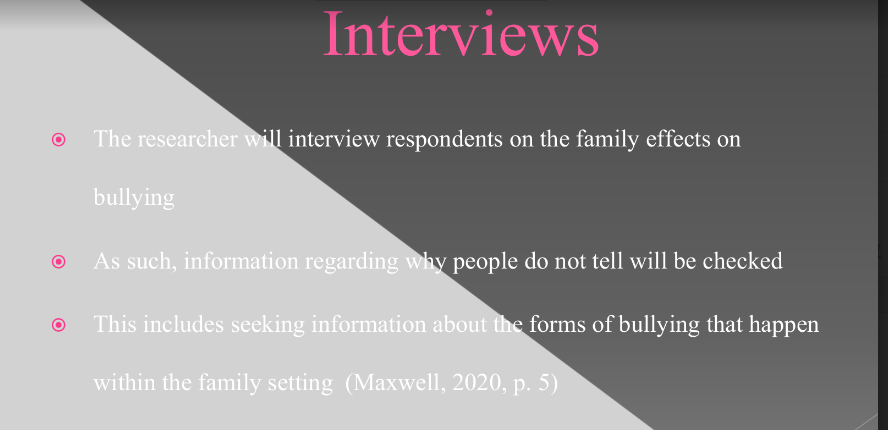 Access the full answer containing 4 PowerPoint slides by clicking the below purchase button.