Brisbane Multi-Faith Temple case study
"Brisbane Multi-Faith Temple" (BMT) is a charitable organisation run by a group of volunteers and the chairman of the organisation is Sam Sharma. Sam along with other volunteers started the first temple at Mount Cotton. The multi faith temple gained huge popularity in a short period of time and due to its increased patronage the organisation decided to open additional temples in Rocklea, Toowoomba, Sunshine Coast and Gold Coast. Collectively all the sites serve over 10,000 people per day. When the initial temple was opened at Mount Cotton, it had two priests, 1 admin staff and one cleaner and a small army of volunteers. However due to opening additional sites in quick session, the number of staff increased exponentially. The organisation now employs 15 priests, 20 admin staff, 5 cleaners, 1 handyman and an accountant. The organisation also appointed a chairman, vice chairman, treasurer and a public officer.
Sam is excited about the growth but at the same time worried about the complexity and cost of the IT setup that will be required across the Temples. He is concerned about how he can make systems shareable across sites, without unnecessary duplication. He is also worried about safety and security of data across sites, and logistical issues such as patron donations, staff files, staff timesheets, payroll
processing, and conducting regular staff meetings. Sam always wanted a system whereby patrons can donate money online, or sponsor specific events, or create scholarships. He wants that when a patron makes a contributes online they automatically receive an email thanking them of their contribution. Also the contribution is stored under client login so at the end of the year clients can either print a consolidated statement or download a statement from their account.
Sam also wants the ordering of food products for the temple sites to be automated, as the current process involves the accountant at Mount Cotton ringing around the other practices to determine what is required and then placing an order. At times a particular temple has become busier and run out of supplies, and the accountant has had to rush a staff member to the other temple with supplies.
Sam decides to engage you as a consultant. Your job is to provide him with solutions that address the following issues and provides advice on what needs to be implemented in the future.
Case Study Questions
1. In order to help BMT management, define what information systems are and briefly explain how information systems are important to future operations at BMT. While answering this question, explore the different kinds of information systems that could be beneficial to any small business.
2. Identify and list the specific business and system problems faced by BMT and list these problems in order of priority.
COIT20274 – Term 3, 2017 – Case Study – ver 1 Page 2 of 2
3. What are the key information requirements of BMT? For each information requirement you have identified, discuss how this information would enhance or improve BMT competitive position.
4. Which specific information system(s) can help BMT in managing their business problems, making business decisions and fulfilling the information requirements identified in the previous question? Be specific in how they will help in these areas.
5. Explain how BMT could strategically utilise the Internet, intranet and extranet to engage with key stakeholders and fulfil communication and collaboration requirements.
6. "Change management" is an important concept to business organisations. How could BMT best manage the organisational changes that would occur with the implementation of the information systems changes you are proposing?
7. For various stakeholders at BMT, including its customers and employees, what are some of the possible security and ethical issues that may arise with the introduction of their information system? What could be done to resolve such issues?
Answer preview for Brisbane Multi-Faith Temple case study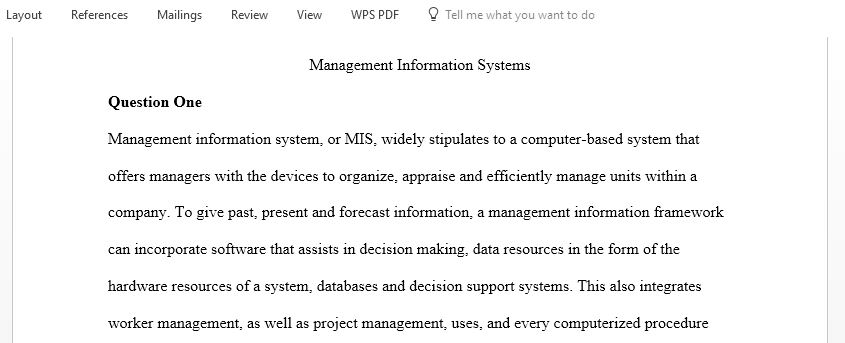 Access the full answer containing 2025 words by clicking the below purchase button