Address how the clients behaviors and test conditions impacted the test results
For this assignment you will be addressing how the client's behaviors and test conditions impacted the test results. Submit a draft of the final project's Observation and Benefits and Limitations sections. In this milestone, you begin to analyze the data in your client's case history's dossier. You will also closely examine the different tests used to determine the benefits and limitations of each. Finally, you will consider whether or not the assessments were conducted ethically. All of your observations and insights will need to be supported with current research and accepted professional practices.
Case History (Arthur)
Presenting issue: Arthur, a 12-year-old seventh-grader, was referred by his parents at his teachers' request because of his difficulty in maintaining his focus in class. Although he previously made good academic progress, his grades and his participation in class have declined during the current year. His work is described as incomplete and poorly organized. Arthur is often seen as inattentive in his academic classes, although he is an active participant in his physical education classes. He often appears tired in his late afternoon classes, and his parents note that he often does not fall asleep until midnight or 1 a.m. At home, it is noted that he frequently loses his belongings and has difficulty completing chores. He is argumentative and has quick changes in mood. He has begun to have increasing conflicts with his parents over his grades and conduct, particularly with his father. Psychological assessment was requested by Arthur's parents and teacher to assess his present functioning and to aid in planning interventions for him at home and school.
History: Arthur was the product of a normal pregnancy but a difficult delivery. He has been free of major illnesses, injuries, and developmental delays.
Classroom observations: There is a substitute teacher in his class at the time of the observation. Compared with peers, he is often out of his seat, exhibits behavior that distracts and annoys peers, and requires several prompts from the teacher to focus on his assignment and begin working. He was also observed to be frequently yawning and not writing down the homework
assignment.
Test observations: He did not converse spontaneously and gave brief answers to questions about his interest and activities. He frequently yawned and reported that he had fallen asleep at 2 a.m. the night before. He showed variable engagement on the testing tasks; he found some engaging, but he complained that the timed tasks were "boring."
Test results: Arthur received IQ and achievement testing along with parent and teacher behavior ratings.
Answer preview for Address how the clients behaviors and test conditions impacted the test results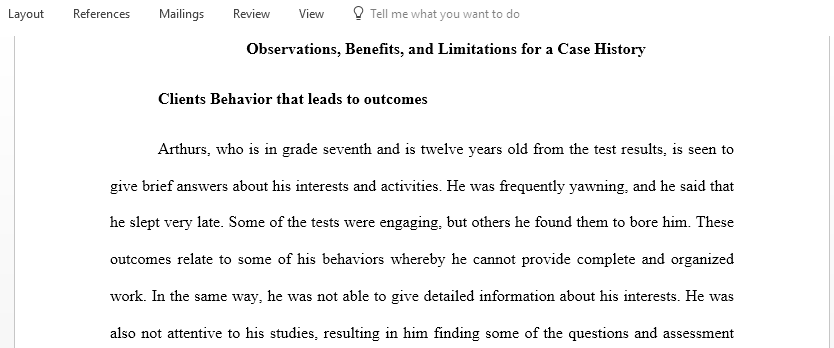 Access the full answer containing 680 words by clicking the below purchase button.