Write a proposal on an ethical or moral issue that is currently faced by engineering professionals
Ethics and Engineering
Essay Instructions
Write a proposal on an ethical or moral issue that is currently faced by engineering professionals in your field or likely industry. The proposal should clearly
state:
The moral issue you plan to investigate, and clearly explain why it is a moral issue, its relevance and importance, for both an individual engineer and the broader public, the structure of your inquiry, the way you plan to analyze the topic, including the theories, concepts, ideas, and tools that we have used in the course, and  a provisional conclusion, major claim, or thesis.
The proposal is not graded, but late or incomplete proposal submissions may incur a penalty of up to 5% per day that will be assessed on the Initial Submission of the Essay. A proposal for an essay on another issue related to the course may be acceptable as long as it is approved by your TA in advance. Initial and Final Submissions. The initial and final submissions of the essay will be graded based on the following criteria:
Two-thirds of the grade will be based on:
The quality of the explanation of the moral issue at stake (including its relevance to engineering);
The clarity and persuasiveness of explanations of different reasonable positions on the issue;
The quality of the author's critical analysis of the issue and positions;
The appropriate use of theories, concepts, ideas, and techniques that have been introduced in the course;
• Appropriate citations that support the relevance of the inquiry, allow the reader to confirm details of important cases, and refer to the sources of theoretical and conceptual ideas that are used;
• The author's skill in constructing a paper that engages the reader; While the remainder will be based on:
• Structure, for which past paper instructions may provide guidance; Coherence;
• Conciseness and clarity; and
• Mechanics, including sentence and paragraph structure, transitions, and topic sentences.
Note that the initial submission is not a rough draft: it should be a fully complete paper written to the best
of the student's abilities prior to peer and instructor feedback.
The initial submission should be uploaded to eCampus through the assignment titled "Essay". The final
submission should be uploaded to eCampus through an assignment titled "Essay: Revision 1".
Students who do not submit a final submission or who submit a revision that is not reasonably
improved compared to the initial submission will receive a zero for the assignment.
Answer preview for write a proposal on an ethical or moral issue that is currently faced by engineering professionals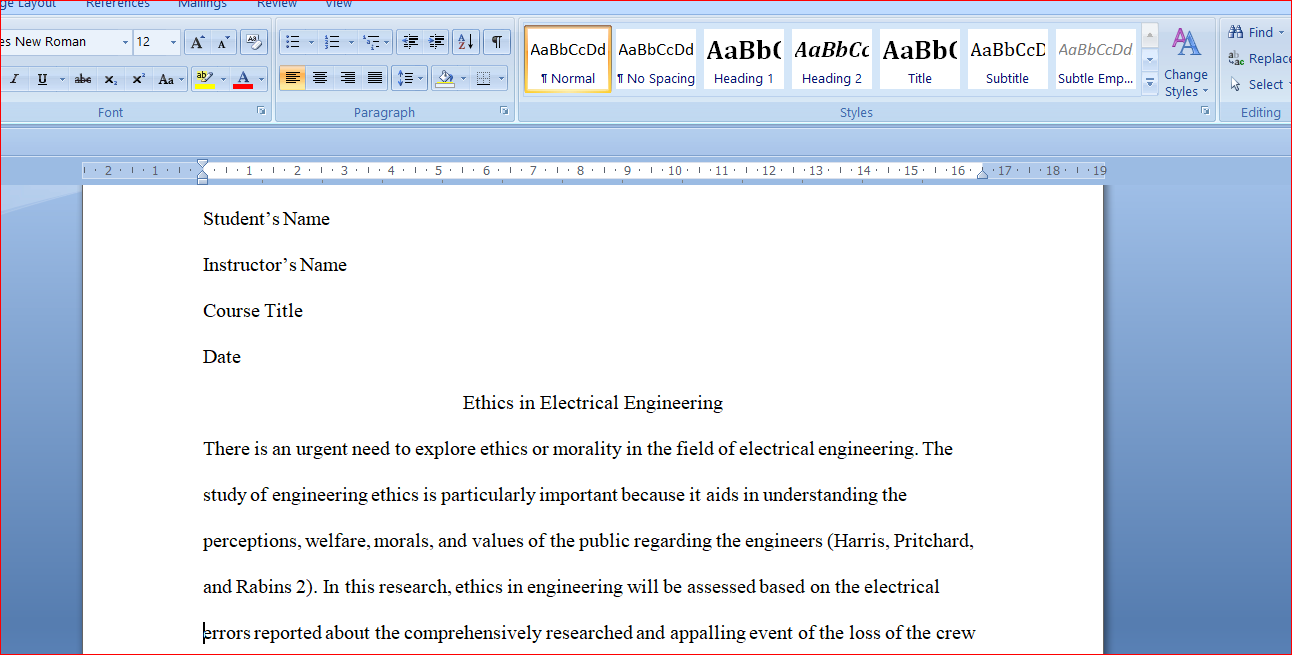 Words:293